So Professional and fast!!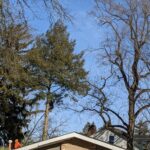 Will and his tree team came back to do another job for us. We needed 3 trees removed, one was HUGE. Will climbed up like it 'ain't no thang' and chopped that thing down so quickly yet so meticulously! He did it with such ease!!! His team worked so well with each other. They showed up on time and cleaned everything up throughout their job. Would HIGHLY recommend Deputy Tree to anyone!!!
Emily Lamboy
Impressive!
Deputy Tree and their team of professionals are great guys to work with. You get a great value working with them and their dedication to completing the job quickly and safely is impressive. I am really happy with the work they did for me. They removed Three large trees from my yard in one day with no issue. I will definitely be using them again.
Justin P.
THE BEST!!!
Will Deputy and his team are great! They know right when to show up and take care of our lawn maintenance. They mow and edge our lawn, remove any tree branches that have fallen, and clean up grass clippings when they're done. We have also used them for yard cleanup and leaf removal. They are fast, reliable and trustworthy. Thanks guys!!!
Emily Lamboy