Snow salt, also known as ice melt or de-icing salt, can potentially damage a driveway if it is used improperly or if the driveway is in poor condition.
 Here are some potential ways that snow salt can damage a driveway: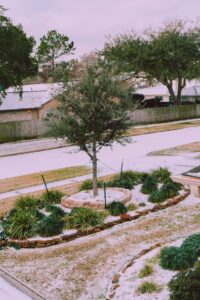 Cracking: If water seeps into small cracks in the driveway and then freezes, it can expand and cause the cracks to widen. Salt can accelerate this process by drawing water into the cracks and promoting more freeze-thaw cycles.
Corrosion: Salt can corrode metal surfaces, such as steel reinforcement bars in concrete driveways, which can weaken the structure and cause cracking.
Staining: Some types of salt can leave behind a residue that can stain or discolor concrete or asphalt driveways.
To minimize the risk of driveway damage from snow salt, it's important to use the right type of salt for your driveway surface and to apply it according to the manufacturer's instructions. It's also a good idea to seal any cracks in the driveway before applying salt, and to avoid using excessive amounts of salt. Finally, it's important to rinse off any salt residue after the snow has melted to prevent long-term damage.